Loading...
8/27/2014
Do not miss the video of the 1st Combarro · Tambo Island swim, in Pontevedra!
8/27/2014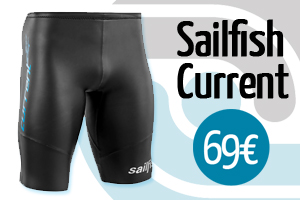 The Current Sailfish swim jammer is once again available on our website!
An excellent aid for training and competition that has been designed to replace the pull buoy. With its 3 to 5 mm thick, it is excellent for swim trainings in pools and open water. Get yours for € 69 in our online store!

8/27/2014
Have you ever wondered who's behind Swim The World? The answer is Sports Mol Consulting! www.sportsmol.net
Sports Mol Consulting is a consulting firm with a very large experience of organising sport events. From the bidding process to the final closure, organising the strategic and operational project, we have worked for very important events such as Olympic, World or European Nominations, as well as triathlons, popular races or open water crossings.
Take a look at our projects and follow us on Facebook and Twitter!
https://www.facebook.com/sportsmol
https://twitter.com/SportsMol
8/20/2014
22 brave swim addicts will soon cross the Straits of Gibraltar with Neda Món.
Is it your dream too? Are you up to the 2015 edition?
Check here all the information and start thinking about it because we are opening registrations in autumn!
8/14/2014
We are sorry to announce bad news for the swim addicts, the institutions in Ribamontán al Mar and Neda el Món, since we are forced to postpone sine die the 1st Santa Marina Island swim.
The reason is that, after weeks of negotiations with the Maritime Authority of Santander, it has not authorized us to perform the swim because of the coincidence with the ISAF Sailing World Cup, taking place in the Cantabrian capital from 8 to 21 September. Although we believe the two events do not affect each other, the position of the Maritime Authority is inflexible.
We are looking for alternative dates, meanwhile, all those already registered to the swim will receive soon an email with the procedure for the refund of the registration fee.
We very much regret any inconvenience this issue will cause to the swim addicts looking forward to swim with us in the Cantabrian in August 31st. We will keep you informed about the date that we can finally close.
8/13/2014
The Neda el Món security buoy for open water swimmers is again available in both sizes on our website!
Those of you who were waiting for your order will receive it within days.
The rest, place your order and swim safe!

8/6/2014
Need some swimming fins for your workouts? Hand paddles, front tube, a pull buoy? Now you can find all these training aids in our online store!
Reviewed and tested personally by the Club Neda el Món coach, Jonathan Gomez, this aids will allow you to improve your technical skills and make the most of the meters you swim in the swimming pool.
8/5/2014
Those of you who have participated in any of our swims this year have had the chance to try the Restart drink between the post swim drink supplies and you also received a free can in the swimmer gift bag.
Restart is the only natural energy drink, with no caffeine and taurine, fructose, honey and 10 vitamins B, C and D. And it tastes delicious!
If you like it and want more, make your order at our online store!
8/4/2014
Today August 4th we are opening registrations for the 5th Zoggs Medes Islands for la Marató de TV3, one of the most emblematic swims of the Neda el Món calendar, which reaches its 5th edition this year.
The event will be held on November 2nd in L'Estartit and as a novelty of this year, it will include a competitive and a non-competitive version of both distances (5,200 m and 3,400 m).
We at Neda el Món do not want to give up the non-competitive concept we have always promulgated, but at the same time we have listened to the demands of those swim addicts asking for some healthy open water competition.
Once again it will be a day for solidarity, since 100% of the profits will go to la Marató de TV3, this year dedicated to heart diseases. A good reason to share a fantastic day in the unique environment of the Parc Natural del Montgrí, les Illes Medes and Baix Ter.
So, registrations are now open, you just have to choose the distance and the type! Come on, swim addict! Either competing or not, the 5th Zoggs Medes Islands for la Marató de TV3 will be a celebration of solidarity and open water swimming!
8/1/2014
Do not miss the video of the 4th Sailfish SwimBarcelona swim!
That weekend we also held open water, nutrition and psychology clinics, as well as the swims SwimBarcelona Solidarity, SwimBarcelona Special and SwimBarcelona Junior.