7/29/2015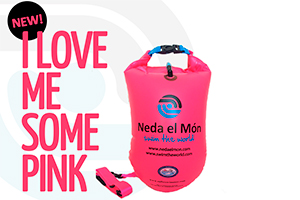 What about adding some pink to your open water swims and workouts?
Now you can get the Neda el Món safety dry bag also in pink! Available in two sizes and with the same advantages that the orange one:
It makes you visible to boaters, jet skis, kite boarders or other potential human hazards while you are swimming.
It can be used as a floatation device when you need it in the case of cramps, dizziness or injury.
It can be used to rescue others
It can keep your stuff safe while your swimming or allows you to take along your stuff on one-way swims across the sea, rivers or lakes.
Visit our online store and choose your size. It is available in 64x30 cm and 60x26 cm. And also in yellow!