Making plans for the end of August? Come swim in the Cantabrian Sea with Swim the World!
7/30/2014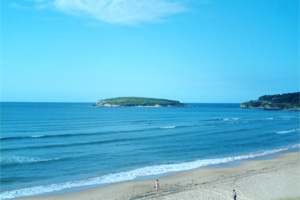 Just 20 km from Santander is one of the most beautiful places in Cantabria, Loredo, which has been chosen by the Swim the World team as our next event destination, the 1st Santa Marina Island swim!
Santa Marina is a beautiful island just off the spectacular beach of Loredo, located 3 km from the Bay of Santander. The routes of the swim have been designed around the island: the first one goes around once (3.2 km), and the second one goes twice (5.3 km).
The event will take place on August 31 and registration is now open for both distances through this link.
If you decide to join us you can complete the experience staying at Camping Derby Loredo and having fun with a 2-hour surf session provided by Santa Marina Island Surf School. Find all the details here!
| | |
| --- | --- |
| Buclenet IT Systems | 7/30/2014 12:50:53 PM |